Coming to Dunedin the first time, is this really the US? And Florida? If it wasn´t for the palm trees, you would be absolutely convinced, it as a place far, far away from Florida…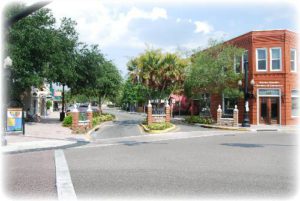 Florida's Gulf Coast might seem like a dubious place to discover Celtic history, but sandwiched between Clearwater and Palm Harbor is a city that boasts a proud Scottish heritage.
Dunedin is one of the state's oldest towns, tracing its history to 1852, when Richard L. Garrison recorded the first land deed. Its current name was created 1882 after two Scottish merchants — J.O. Douglas and James Somerville — petitioned to name the post office, and then the town itself, after the Gaelic interpretation of their hometown of Edinburgh.
Today the city boasts a charming downtown with local purveyors and a wide array of historical attractions that make it an easy day trip from Tampa Bay or a tranquil vacation spot on its own. Its historic roots, not just the Scottish traces but also its origins as a citrus-growing region and military equipment manufacturing area can be enjoyed through number of cultural groups and events that take place during the year.
Another Scottish tradition is the Dunedin Pipe Band, which travels around the world representing the city and competing in grade-school piping competitions. This also provide an opportunity to learn more about Celtic and Scottish culture and feature Highland dancing, traditional music, and Scottish athletic competitions. Which is as far as you can get from the traditional Florida culture…
History buffs can ruminate at the Dunedin Historical Society and Museum, located on the site of the original Orange Belt Railway Station, an integral part of Dunedin's development that signified an agrarian shift from cotton to citrus growing. This railway was a part of the Peter Demens Orange Belt Railway, introduced in the section of St Pete – the History.
Dunedin is not a big city. A slow stroll up the main street, turning right and returning through the old part of Dunedin towards the beach, gives you a good idea of a small Florida village some 125 years back.
And leaving Dunedin, don´t go back by the busy I-19. Take the original by-the-water road (Alt-19), down by the shores and you will see some magnificent houses from way back then.