It is easy to get to St Petersburg – or to Pinellas, which is the name of our county. By car from up north, you are coming down with either the I-75/275 or (if you are going the coastal way through Jacksonville) the I-95/4. We are two hours away from Orlando and Disney, four hours away from Miami and 8 hours (yes!) from Key West. (just Miami – Key West is a 4 hour drive…) If you are from the US, you are used to distances, if you are from the cramped Europe, get used to it!
Just for comparison, the US (less Alaska and Hawaii) is almost exactly as big as all Australia, see picture below. And we are hanging on there, down right…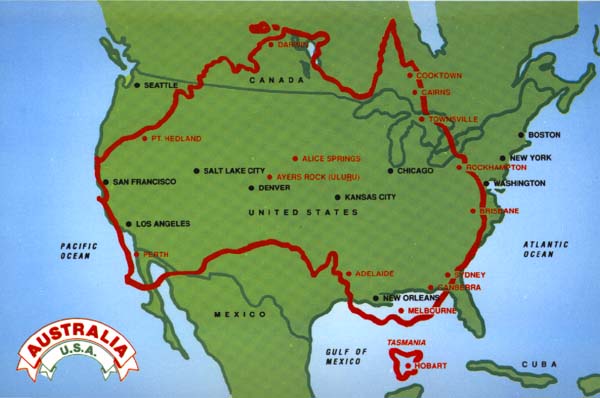 We are located very much at the center of coastal West-Florida. But the best thing: if you are arriving by air, TIA (Tampa International Airport) is not such a big airport as Miami, Newark or Atlanta. When you have got your luggage, a taxi or your rented car takes you to St Pete center in 30 minutes! Beat that, Miami or New York!