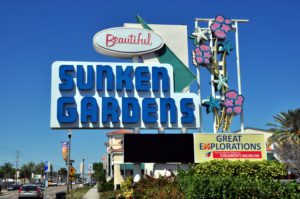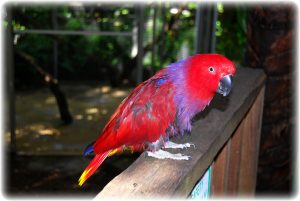 Sunken Gardens is a botanical garden, right in one of the busiest parts of St Pete. If you are not an avid  "green-finger" person, a visit to a botanical garden doesn´t sounds like the most exciting activity. But this is different.
In 1903 the plumber George Turner, Sr. purchased the six acres that would become a world famous botanical attraction. Using an elaborate maze of clay tiles, he drained an ancient lake on the property, leaving a rich muck soil that was ideal for his favorite hobby – gardening. Neighbors so enjoyed strolling through Mr. Turner's garden, that by the early 1920's, he was charging a nickel for tours. Three generations of the Turner family continued the vision that created this unique tropical garden, with its flowing ponds.
The City of St. Petersburg purchased Sunken Gardens in 1999. With Mr. Turner Sr.'s original vision in mind, the city's goal is to preserve this historic botanical garden and provide cultural and educational opportunities.
Even if you haven´t got the slightest interest in gardening and plants, you will appreciate a visit to Sunken Gardens. It is not just the plants, the flowers, the stillness. It is the sound from slow streaming water, the lay-out of the different areas of the park, all the birds, the sunshine glimmering through the palm-trees. To spend an hour among all these flowers and plants from around the world and relaxing on a bench, it feels refreshing! Try it, you will like it!