Some places worth visiting in St Pete may cost you something – usually not entrance fees, but perhaps something for eating or drinking. There are however some places which will not cost you a nickel to visit – only some gas (which is not the most expensive thing in your travel budget anyway). And this is something you can do over and over again, also when you are on your way to some other place. The only thing you need is some interest for houses from the old times of St Pete. You don´t need to be an architect or something, just having some interest to see how people lived way back then in the surrounding they created.
In St Pete there are four different areas which all reflect a part of the St Pete History:
Snell Isle
Historical North-East
Historic Kenwood
The Jungle
Snell Isle
Perry Snell came from Bowling Green, Kentucky. He came down to Pinellas 1899 with a rich wife and business talents. He soon purchased property between First and Second Avenue NE and between First Street and Beach Drive NE. Within five years he owned almost the whole north-east part of the city. In 1925 he declared that he was going to build "The Pearl of Pinellas". That was the island just north-east of downtown St Pete, on the other side of the "The Coffee Pot Bayou". The island which today has the name Snell Isle.
Perry Snell was not just a cunning businessman, he loved everything beautiful, especially the Italian and Spanish type of castles, classical and Renaissance statues, sprinkling water and flowers. Even if the most part of the isle was partly under water, Perry Snell dredged it and filled it out. Even if many of the old grandeur buildings are gone today, you will get a feeling of someone's visions of an old, elegant world.
Perry Snell built many other majestic buildings in the central part of St Pete. We shall not go too deep into that here, but it is one place we must tell you about. In the corner of 1st Avenue South and Fourth Street, there is a huge, tall building. In that building – coming from 1st Ave. S. – you will find an entrance numbered "405". You will also see the sign "Snell Arcade". Going in there is like a "Back to the future" experience.
If you have been to London and to the Shopping Arcades like the Piccadilly Arcade or the Royal Arcade, from the end of the 1800´s, you will recognize the feeling. Unfortunately there are not so many active shops in there, but the whole arcade is declared as a building monument from a period in the history of St Pete. And indeed, it gives us a vision of the ideas the developers of St Pete had, more than 100 years back…
Snell gave St. Petersburg $100,000 worth of statuary that he had purchased while on one of his frequent trips to Mexico and Europe. Snell purchased and held many waterfront properties until the city could buy them, interest-free.
This is very much the same background history as for Snell Isle, as Perry Snell was the owner during the same times. It is located right behind the Vinoy Hotel. In many respects, this area is better preserved as to the original houses than on Snell Isle. What you see here are very well kept family houses, indicating the standard of living for "better off" folks some hundred years ago. Not two houses are of the same style, there is an interesting mix of cute and harmonizing buildings with influences from different regions of the US. A walking tour reveals an eclectic mixture of Prairie style, Colonial Revival, Bungalow style, Mediterranean Revival and Williamsburg style homes. As most of the early Old Northeast settlers came from the actual northeast and brought with them their own northern design styles, it's understandable… You can criss-cross here several times on the narrow brick-laid streets and you will discover new houses every time. If you are interested in more information about this area, log in to the Historic Old Northeast Neighborhood Association  (HONNA) who have a very active owners association.
Historic Kenwood
Kenwood are more of bungalow houses – which doesn´t mean they are bad and poor. The area started to become urbanized around 1912 and kept on expanding to the beginning of the 1940´s.  But remember when this area was built, it was located outside the city of St Pete. So what you see is a kind of countryside suburb. Historic Kenwood developed as a working and middle-class neighborhood in the early twentieth century. The neighborhood was one of the earliest to be developed outside of downtown. It developed rapidly during the Florida Land Boom of the 1920s, during which time St. Petersburg became a favorite vacation destination. While a few houses were constructed in the 1910s, development reached its peak in the 1920s, due in large part to its location just west of downtown, which could be easily accessed by automobile or streetcar. The streetcar system which once ran down Central Avenue and was quite popular until finally being phased out by 1947.
Sounds intriguing, right? It is not that much of a real jungle today, but in the days it was named, it probably was. It is not the place tourists usually come, but it is in some way another "Back to the Future" location. If you go Central Avenue all the way west, but instead of passing over to St Pete Beach, you turn right at Park Street N. and keep on going for half a mile or so.
Around 1915 the area close to the water started to get colonized. You can find big, old stunning houses on several locations around Pinellas. But what you see here to your left are not "houses" it is estates. Of a size… Apart from the fact that all these estates are waterside properties, there is another thing which tells you these houses are old: the size of the plots. We are not talking about some thousands of square feet. We are talking of some acres of land for each house! In those days you could pay for that, not today – unless you are a Bezos, a Gates, a Buffet…
And the street is not asphalt, it is brick laid. The houses on the right side of the street are awesome too, but on a slightly different budget, if the expression is allowed. The whole area brings vibrations of a long-gone time, when style and wealth had a different meaning than today.
But apart from the type of early 1900´s century buildings, there is more to this area than that. Because here, the whole colonization which was to become the US started.
At the mid-1500´s, the Tocobaga indigenous tribe were living here. In a great location, the forest was full of prey and the water an abundance of fish. They lived in peace, as no one threatened their existence. But that would soon come to an end. On April 15th 1528 the Spanish explorer Panfilo de Narvaez came sailing in here, as the first white man to step on the soil of this continent.
Narvaez soon came to a clash with the Tocobagas. After having killed most of the Tocobagas, he and a part of his crew draw north in their search for gold – which was the real mission for his conquest. Not to Christian the locals, as he claimed. It took him 7 years to come back. Without any gold…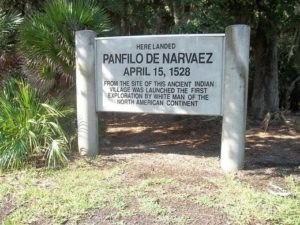 On that spot which Narvaez landed, there is a sign in remembrance of that. And just at the beach side over-looking the Narvaez landing spot, there is a building with yet another legend around it. Today there is a restaurant with the name The Jungle Prada Tavern. But in the 1920´s, there was another type of establishment here.
The Gangplank
"When the dress of a Gangplank dancer with the name Paige slid down her body, a wide-eyed visitor from upstate was shocked. There was nothing except Paige herself underneath".
This short resume´ from 1925 may indicate that it was perhaps not at a Sunday Morning church meeting. Nor was it any classical theater performance. Far from it.
The Gangplank was the county´s first night club. It was during the 1920´s also a Speak Easy. (if overseas visitors are not familiar with that expression, see later). It wasn´t perhaps so much for the food people went to The Gangplank. It was for drinking. And in several city documents from the era it was also listed as "The Gangplank Tea-room". And indeed, they were drinking in tea cups. But it wasn´t exactly tea in the cups. It was whiskey. As a matter of fact, The Gangplank also became the first bootlegging hub in the area.
Rumors also has it, that a gentleman who owned land just a few blocks down the road was so interested in the activities so he became a partner in the business. His name was Al Capone.
Then came the depression during the 1930´s and the business failed. And soon the Gangplank closed for ever. And today you don´t drink whiskey in tea cups on the premises.
As far as we know…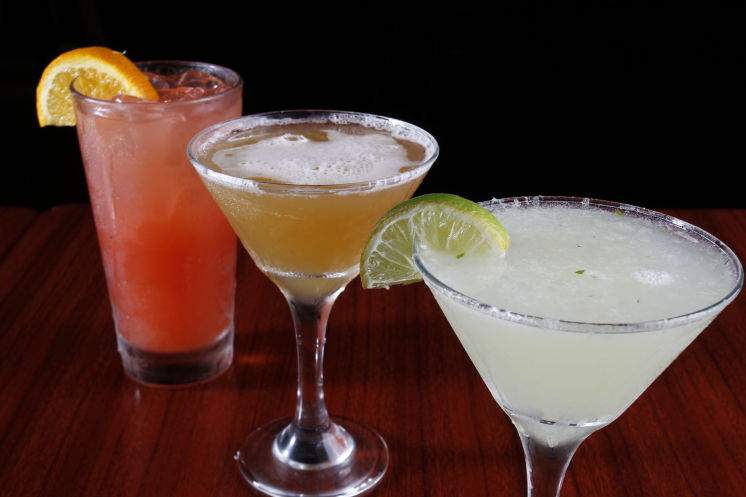 "Speak Easy"
During the prohibition period, people still would like to have something to boost their egos. So bars and nightclubs were opened up there in the big cities up north. But with a difference. The entrances to these establishments were disguised to something else, like a dry cleaning shop, a funeral bureau, a car dealer, you name it. And with the right code word, you were allowed to the inner rooms. But of course the police were constantly chasing these places, so you had to "speak easy" about their locations. So there you have the background to the expression.
As a matter of fact, today there still is a Speak Easy in Tampa (legal, though!). It is located where you don´t expect to find such a venue. If you mail us, we will tell you the address. But speak easy about it…